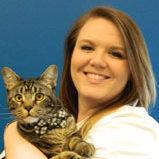 Dr. Lauren Taylor grew up in Lake Havasu City, AZ where she started her veterinary career as a veterinary assistant at the age of 16. She earned her Bachelor's degree in Veterinary Science and Chemistry from The University of Arizona in 2011. During college, she continued to work in the veterinary field as a veterinary technician, was involved in farm animal reproductive research, and interned at Reid Park Zoo. She graduated with her Doctorate in Veterinary Medicine as a part of the inaugural class at Midwestern University's College of Veterinary Medicine in 2018. As a veterinary student, Dr. Taylor spent part of her clinical year externing at PAH's Equine Center and fell in love with the hospital and city. She enjoys mixed animal practice with particular interest in anesthesia, emergency medicine, and exotic animal medicine.
Why I became a veterinarian?

I was born and lived in Oceanside, CA before moving to Arizona, and spent many summers and school breaks visiting my grandparents there while growing up. My absolute favorite thing to do with my grandparents was to visit the San Diego Zoo, Safari Park, and Birch Aquarium, and treat the neighborhood cats as my own. It never mattered what type of animal it was, I was always fascinated by them all, their health, and conservation. I do not remember ever wanting to be anything other than a veterinarian, and my path through the veterinary field has lead me to develop a great respect for all animals; large, small, domestic, or wild.